Maps
http://www.worldatlas.com/webimage/countrys/as.htm
http://en.wikipedia.org/wiki/Asia
http://www.tripadvisor.com/Resources-g580305-Maps-Orient_Majorca_Balearic_Islands.html
Burma
There are about 25 Jews living in Burma
http://www.haruth.com/jw/JewsBurma.html
http://en.wikipedia.org/wiki/History_of_the_Jews_in_Burma
http://www.jcpa.org/jl/jl101.htm
http://www.jewishtimes.com/index.php/jewishtimes/news/jt/international
_news/jews_of_burma_march_on/
Baghdad Jews in British Burma
http://www.loc.gov/today/cyberlc/feature_wdesc.php?rec=4454
http://www.myanmarshalom.com/JewishColumn.html
more about Chinese Jews
'The Rickshaw Express"
Many photos available at
http://www.rickshaw.org/photo_page.html
The one pictured here is entitled "The Chanukah costume Party at the Shanghai Jewish Community Center on December 13, 1947". Photo courtesy of Harry Sydel
http://www.jochnowitz.net/Essays/Survival.html
History of the Jews in China
http://en.wikipedia.org/wiki/History_of_the_Jews_in_China
---
A very informative article, actually a talk given by Dr. Les Malkin, can be now read at
Chinese Jews
Jews have had contact with the Chinese since the 8th century when they began trading with them. In the 9th century, nearly 1,000 Jews lived in the city of Kaifeng. And in the 19th century, Jewish immigrants from Europe, Russia, India and the Middle East founded communities in Harbin, Tientsin and some other cities. By 1937, the Jewish population had swelled to some 20,000 mostly European Jewish refugees fleeing from the Nazis and spent the war years in Shanghai, China. Today, China's Jewish community numbers around 200, nearly all in Shanghai
www.jewishvirtuallibrary.org/jsource/vjw/chinajews.html
In Chinese, the name "Shanghai" means 'by the sea.' A feature-length film, "Shanghai Ghetto", offers interviews with survivors and never-before-seen footage that documents the story of the refugees, their relationships with the local Chinese people and with the occupying Japanese army, as well as the rich Jewish cultural life constructed under great hardship and the tragedy of relatives who stayed behind in Europe. The film is narrated by Martin Landau.
There were four Jewish cemeteries that once served this city's small, but prosperous Jewish community, but they disappeared in the late 1960s during China's Cultural Revolution. The sites were paved over to build a factory, park, hotel and Muslim cemetery. Israeli photojournalist, Dvir Bar Gal has located 85 original headstones and hopes to use them in a memorial to Shanghai's Jewish past.
Shanghai, a major port that is now China's larges city, has had three waves of Jewish immigration. The first began in 1845, when David Sassoon, a prominate Iraqi Jew living in India, moved his family business to Shanghai, which was China's first city to open to the West. He was joined by tow other Baghdad Jews, Elly Kadoorie and Silas Hardoon, and as the community grew, they built Shanghai's fortunes and their own.

Pictured is Susie Segalowicz and the late Ted Gerson, both Holocaust refugees, found their way to Shanghai during WW II and, found each other and married on November 17, 1944. After the war, they came to Portland, Oregon where the lived. More of the story was published in the February 2013 issue of Oregon Jewish Life Magazine
http://ojlife.com/issues
The second wave came after 1905 when Russian Jews fleeing pogroms and revolution arrived in the city. And in the 1930s, some 30,000 refugees from Nazi Europe arrived in the city as the third wave. Shanghai was an "open city," and allowed immigration without visa or passport. The 20,000 stateless Jewish refugees still in the city were confined in what became known as the Hongkew ghetto, but those with jobs outside were permitted to continue working. The Iraqi and Russian Jewish communities, along with the American Jewish Joint Distribution Committee, sent in frequent aid. After the war, virtually all of the Jews left for Hong Kong, Australia, North America and Israel.
http://shanghaijewishmemorial.com/
http://forcedmigrationguide.pbworks.com/Encyclopedia-of-Diasporas
http://www.jewish-holiday.com/kaifeng.html
http://www.absoluteastronomy.com/topics/Kaifeng_Jews
PowerPoint Presentation of the Jews of Kaifeng and Harbin
www.shtetlinks.jewishgen.org/harbin/TheJewsofHarbin&Kaifeng-Part2.pps
The microfilm reading room at National Archives located in College Park, Maryland, holds Records of the Central Intelligence Agency (Record Group 263). RG263.2.3 "Records of the Shanghai Municipal Police" contains Russian Emigrant Registration Cards, 1940-1952. Russian emigrants had to register, and their registration cards with certificates and photographs have been microfilmed (16 rolls). It appears that only the Russian emigrant cards were microfilmed. There are no hard copies. They are in alphabetical order. From a posting by Roberta Solit
rsolit@comcast.net
"There are several elderly American Jews who remained in China after WW2. They live in Beijing. There is a small Jewish community in Shanghai, primarily Israelis and Americans who are there for business purposes. They have a community Seder and meet on occasion for Sabbath services. The last Jewish resident of Harbin, died about five years ago. Though she was born in Harbin, she never learned Chinese. Her family was from Russia and arrived there in 1910 to avoid the cruel reign of the Tsar." If anyone is interested in more info about this poor woman, kindly contact Betty Provizer Starkman bettejoy@aol.com
Chinese Jewish Family Tree
If you want to look up this ancient Hebrew genealogy Lester D. K. Chow offers his family genealogy online, because he is happy to freely share it with others. Lester D. K. Chow lchow@lava.net
More information on Chinese Jews can be found within the database of MavenSearch
www.mavensearch.com
Reference should be the chapter on China in the Avotaynu "Guide to Jewish Genealogy". This will lead the researcher to the relevant archives, resources, websites, etc. Of course other valuable resources are being found since the Guide was published over a year ago. YIVO in New York has a far more extensive collection on the Jews of Shanghai than the Leo Baeck Institute (refer Drs Schwarcz), especially for the Europeans that found refuge in Shanghai during World War 2.

The Central Archives for the History of the Jewish People in Jerusalem has a most valuable resource, the so-called Shanghai HIAS Lists, which are now on microfilm. A microfilm copy is also available at YIVO. A list of ships that sailed to Shanghai could be compiled by searching about 8500 entries From a posting by Peter Nash genealogy@rpnash.com

Chinese descendants of ancient Jewish community make Aliyah

Seven descendants of ancient Kaifeng community arrive to Israel, plan to study Hebrew, convert to Judaism

It would probably be difficult to tell the difference between the seven youngsters who arrived Tuesday at Ben Gurion airport, and the thousands of Chinese construction workers living in Israel. However, the young Chinese arrivals, aged 19 to 23, are descendants of an ancient Jewish community which originated from the city of Kaifeng.

Immediately following their arrival, the seven knelt down and kissed the soil of the Holy Land. "My dream is to complete the process of converting to Judaism and become a certified rabbi, after which I will return to my community and serve as its first rabbi since the dissolve of the Jewish community some 150 years ago," said 23-year-old Yaacob Wang. "I am excited to arrive to the holy land. It is a dream come true," he added.

The first destination on the new immigrants' list was the Western Wall, where they prayed "Shehecheyanu", a blessing recited upon a noteworthy achievement.

"I cannot believe after all these years I get to finally visit the Western Wall which I dreamt of for years and drew in many of my drawings," said Hang Shir, 24.

The group's trip to Israel was arranged by Shavei Israel organization, which has been in contact with the Israeli government over the past two years, and recently received authorization from the Ministry of Interior to give the seven a one-year entrance permit, during which they will study Hebrew and go through the conversion process.

Shavei Israel founder Michael Freund, who funded the project out of his own pocket, said Tuesday "this is an experimental project, and if it proves successful, we will bring more descendants of the Kaifeng community, of which a little less than half would like to make Aliyah."

It is still not clear exactly when the first Jews arrived in China, and around what year the Kaifeng community, which currently has some 1,000 members, was established.

However, according to the prevailing theory among scientist as well as Kaifeng Jews' descendants, the community's ancestors were merchants from Persia, who arrived in Kaifeng – then the capital of China — via the silk road during the 10th and 12th centuries.

Although the Kaifeng Jews almost completely assimilated, their descendants continued to observe certain traditions such as not consuming pork, which is the main meat product in China, baking matzo during Passover, painting their frame-head (door post) in red instead of a mezuzah, and lighting Hanukkah candles.

In recent years, some decedents of the community began searching for their roots. "One explanation is the internet, which allowed them access to information about Judaism and Israel, which they wouldn't have been able to get otherwise," said Freund.

Recently, three young Kaifeng Jews made Aliyah with the help of Shavei Israel, completed their conversion process, and became full citizens of Israel. This time, the organized group will live in the religious Kibbutz Sde Eliyahu, where they will study Hebrew for five months, after which they will complete their conversion.
From an Email: from my school buddy Al Eisenberg of
---
Books
"The Angel of Austria's Jews"
Authored by Mark O'Neil for the South China Morning Post is a story about how Ho Fengshan saved thousands of Jews during World War II.
http://journeyeast.tripod.com/agnel_of_austria_s_jews.html
---
"Chinese Jews"
Authored by William Charles White
---
"The Covenant And The Mandate Of Heaven"
Authored by Tiberiu Weisz
---
"Diaspora" - authored by Werner Keller
---
"Emigranten Adressbuch Fuer Shanghai. Mit Einem Anhang Branchen-Register"
Published in 1939. This small volume contains the names, addresses, previous occupations and countries of origin of the thousands of German and Austrian Jews who had registered in Shanghai by that date. This book was reprinted by Old China Hand Press, PO Box 54750 North Point Post Office, Hong Kong and is priced at $10 USD, airmail)
---
"Far East Mission"
Authored by Louis Rabinowitz
---
"Fragrant Harbor
Authored by John Lanchester and published by Penguin. A novel about Hong Kong set from the 1930s to the early 21st century.
---
"How Do You Celebrate Christmas"
Authored by Joshua Cohen A Jew in China: The travails of life in a land where Westerner equals 2/09/97)
http://www.salon.com/1997/12/09/feature_114/
---
"The Jews of China"
Authored by Jonathan Goldstein
---
"Jews of Old China"
Authored by Hyman Kublin
---
"The Kaifeng Stone Inscription"
Authored by Tiberiu Weisz
http://openlibrary.org/b/OL7558627M
---
"Mandarins, Jews and Missionaries: The Jewish Experience in the Chinese Empire"
Authored by Michael Pollak and published by Weatherhill. The book provides a general overview of Jewish history in the region, including trades along the famed Silk Road and the ancient Jews of Kaifeng.
---
"My China: Jewish Life in the Orient, 1900-1950"
Authored by Yaacov Liberman and published by Gefen Publishing House, Jerusalem and L. Magnes Museums, Berkeley, CA in 1998.
---
"Studies of the Chinese Jews"
Authored by Hyman Kublin
---
"Wanderers and Settlers in the Far East"
Authored by Herman Dicker
General Chinese
Information

A Chinese Jewish family
http://www.tabletmag.com/arts-and-culture/books/881/in-bloom/
---
Am Yisrael China
Relics of the Jewish presence in China can still be seen
http://www.travelwithjan.com/taxonomy/term/172
---
Association of Immigrants from China in Israel
Includes Jews from all over China, Igud Yotzie Sin (Sin is China in Hebrew). It's a very active group. Teddy Kauffman, who was secretary of the Jewish Community in Harbin in the 1940s, runs the organization and is editor for its newsletter, which is published in Russian and English. They ask $25.00 for an ad in their newsletter. Their Email: is
Igud-sin@barak-online.net
Association of Former Residents of China
P.O. Box 1601
13 Grusenberg St.
Tel Aviv, Israel
http://www.jewsofchina.org/organization.asp?DBID=1&LNGID=1
---
Beijing Jewish Community
Hutong District Hidden Lane
www.sinogogue.org/

http://www.sinogogue.org/
Betar
The head of Betar in China was Aaron Henkin of Harbin. He came to the US in 1945 or 1946. Betar was the Zionist youth group that backed the Irgun Zvai Leumi. During WW II, because of the railroad and because the Japanese were relatively tolerant, the Jewish community added a lot of refugees from Austria and Germany.
http://www.betar.org/history/hist-h.htm
http://www.shtetlinks.jewishgen.org/harbin/My_China_Chapter_3.htm
http://en.wikipedia.org/wiki/Betar
---
China's Historic Jews
More than 4,500 miles from the Holy Land, a Jewish community of 10,000 people lived in central China during the Sung Dynasty. Although the synagogue and village were ravaged by bandits and floods, Leo Gabow managed to gather photographs, memorabilia and artifacts connected to the synagogue, which was first constructed in 1163
http://jewishsf.com/bk971003/sbsilk.htm
http://www.jweekly.com/article/full/6691/china-s-historic-jews-
synagogue-honored-in-silk-road-exhibit/
http://www.northeastern.edu/news/stories/2010/02/ross.html
---
China Virtual Tour - Virtual Jewish History Tour
Today, China's Jewish community numbers around 200, nearly all in Shanghai.
www.jewishvirtuallibrary.org/jsource/vjw/chinajews.html
http://www.chinavista.com/travel/virtualtours.html
http://www.thechinaguide.com/index.php
---
Council on the Jewish Experience in Shanghai (CJES)
3500 Race Street
Philadelphia, PA 19104-4925
Phone/Fax: +1.215.386.1270
http://cjes.org/
http://www.kulanu.org/china/shanghai.php
http://trove.nla.gov.au/result?q=subject%3A%22Jews+-+China+-+Shanghai+-+History.%22
---
Harbin

The Main Synagogue in Harbin (also called the Old Church) is seen in Artilleriskaya Street, Pristan District (now Tongjiang Street, Daoli District). Its foundation was laid on May 3, 1907 and completed in January 1909
http://www2.kenyon.edu/Depts/Religion/Fac/Adler/Reln270/Judaism/Harbin-Jews.htm
Once known as "the little Paris of the East", many refugees from Russia lived in Harbin before immigrating to other countries. The archives of the Jewish community in Harbin are intact, but the Chinese authorities stopped access. The Mormons are working on it. Eventually, it is expected, we will be able to get marriage, birth and death records from them.
The first Jews reportedly arrived in Harbin around 1899. Thereafter there were three waves of immigrations according to Li Shuxiao, vice director of Jewish research at the Heilongjiang Academy of Social Sciences. The first group, in the early 20th century, came in search of opportunity after the opening of the Russia-China railroad. The second during the 1917 Russian Revolution. A third group of Jews sought to escape a Russia-China border conflict in 1929. The local Jewish population reached some 20,000 around 1920.
The history of the establishment of Harbin and the many Jewish and White Russian families who lived there from Tsarist times and later on fleeing from the Russian Revolution is fascinating.
The Los Angeles Times published an Associated Press article about the Harbin Jewish Cemetery reopening which was published on April 22, 2000. It can be found in the LA Times Archives
http://latimes.com

Scroll down and on the left you can type in 'Harbin Jews' in the search box. A portion of the article can be viewed for free.
The gist of the article was that Chinese authorities have reopened Huangshan Cemetery, a Jewish cemetery built by Jews who moved there after the completion of the Trans-Siberian railway in 1896. The article said that the cemetery, built in 1903, has more than 2,000 tombs and is said to be the largest Jewish cemetery in Asia. It explained that 20,000 Jews moved to, or visited the city, after the railway opened, and the government moved an additional 605 tombs to the cemetery in 1953.
Jewish Cemetery in Harbin
http://jewishgraveyardrabbit.blogspot.com/2009/03/china-jewish-
cemeteries-in-harbin-and.html
http://www.china.org.cn/english/2004/Sep/106964.htm
http://english.dbw.cn/system/2009/04/10/000123983.shtml
http://www.zegk.uni-heidelberg.de/hist/ausstellungen/harbin/
bibliography.html
PowerPoint Presentation of the Jews of Kaifeng and Harbin
www.shtetlinks.jewishgen.org/harbin/TheJewsofHarbin&Kaifeng-Part2.pps
http://english.dbw.cn/system/2009/04/10/000123983.shtml
Information dealing with Harbin during WW II can be found at
http://www.rickshaw.org/
Harbiner Russia\China search
Try the Rootsweb-organized Newsletter. To subscribe send an Email: message with only the word SUBSCRIBE in the subject and the body of the message to:
rusharbi-D-request@rootsweb.com
http://www.nytimes.com/2010/04/15/world/europe/15iht-letter.html
Teddy Kaufman is the leader of the Tel-Aviv based Association of Former Residents of China.
http://www.sino-judaic.org/index.php?page=harbin_history
---
Books
"The Jews in Harbin"
---
"Secrets and Spies - The Harbin Files"
Authored by Mara Moustafine and published by Random House in Australia. The book documents Mara Moustafine's family's history and fate from Tsarist Russia to Harbin and under the 1937/38 Stalin Terror in Hailar and Harbin in Russian Manchuria, and back to the former USSR, Shanghai and eventually Australia
ISBN 1 74051 091 7
---
China's northeastern city is restoring two synagogues
http://www.hsilai.org/english/merittimes/detail.asp?index=16374&page=B
http://www.jweekly.com/article/full/23621/chinese-city-with-jewish-past-reaches-out-again/
http://www.chinajewish.org/ohelrachel1/history
http://www.movius.us/articles/AWSJ-tilanqiao-original.html

Memorial Remembering the victims
http://www.memo.ru/eng/index.htm
http://www.bh.org.il/database-article.aspx?48705
http://kaifengjews.blogspot.com/
http://www2.kenyon.edu/Depts/Religion/Fac/Adler/Reln270/Judaism
/bibliography.htm
---
Hong Kong Jewish Community

Hong Kong skyline
Dan Fellner published an article in the October/November 2011 issue of Hadassah Magazine. He states that "the hub of Jewish life lies halfway down the peak in a part of Hong Kong known as the Mid-Levels, a popular residential area for the island's general expatriate community. "There are two congregations, a Jewish Community Center, a kosher supermarket and a Jewish day school. "So many Jews live in the surrounding high-rise apartment buildings that one local rabbi has dubbed the area a "vertical shtetl."
http://www.hadassahmagazine.org/site/apps/nlnet/content.aspx?c=twI6LmN7IzF&b=6725377&ct=11274597&notoc=1
Cemetery
There are about 360 Jews buried here and it has been in continuous use since it was established more than 150 years ago. All the tombstones have been catalogued by the
Jewish Historical Society of Hong Kong
13 Shan Kwong Road
http://gwulo.com/Jewish-Historical-Society-of-Hong-Kong
Census
Hong Kong census figures show only 40 Jews lived on the island in 1872, and that by the end of the 19th century, the Jewish population had more than quadrupled, mainly because of the influx of refugees from Eastern Europe. In 2011, it is estimated that there are about 5,000 Jews, though estimates vary due to the transient nature of the community.
The Jewish Community Centre
70 Robinson Road
Phone 852 2801 5440
is a multi-faceted facility conveniently located in the Mid-Levels area above the Central district on
Hong Kong Island
http://www.jcc.org.hk/
http://www.jewishvirtuallibrary.org/jsource/vjw/hongkong.html
http://en.wikipedia.org/wiki/History_of_the_Jews_in_Hong_Kong
http://www.simpletoremember.com/vitals/world-jewish-population.htm
Newspapers
Asian Jewish Life
http://www.asianjewishlife.org

Jewish Times Asia

http://jewishtimesasia.org
Synagogue
Kehilat Zion
62 Mody Road
Kowloon
Phone: 852 2368 0061
http://www.kehilat-zion.org
Ohel Leah Synagogue
70 Robinson Road
http://www.ohelleah.org/
Shuva Israel
61 Connaught Road Central
852 2851 6300
http://www.shuva-israel.com
The United Jewish Congregation of Hong Kong
Phone: 852 2523 2985
http://www.ujc.org.hk
---
Igud Yotzei Sin (Association of Former Residents of China)
Editor of their Bulletin is Boris Mirkin, 13 Gruznberg St., Tel Aviv, Israel
http://www.jewsofchina.org/
http://www.jewsofchina.org/JewsOfChina08/index.asp
http://www.jewishtimesasia.org/harbin/259-harbin-communities/152-the-historic-community-of-harbin-china
---
Israelites
A very well done and informative site dealing with 'The History of the Ancient Near East'
http://ancientneareast.tripod.com/Israelites.html
http://ancientneareast.tripod.com/
http://www.fordham.edu/halsall/ancient/asbook3.html
---
Jewish Diaspora in China
From a Chinese perspective by Professor Xu Xin
http://home.earthlink.net/~davidturetsky/xuxinspeaks.html
http://www.springerlink.com/content/w73352kk4t308678/
http://www.lycos.com/info/jewish-diaspora.html
---
Jews in China
"There were many Jewish communities in China during the past 1000 years. In the ancient city of Kaifeng, however, we have found written and archeological evidence of Jewish life. Kaifeng now has a Jewish museum. Though they are no longer Jewish, the descendants of this ancient community continue to identify themselves on the Chinese census as "Yotai, Jews." There is an estimated 300 'Yotai" living in Kaifeng at this time (2005).
The Jewish Community disappeared after its last rabbi died in the mid-1800s. Although the Jews are intermarried and retain few, if any Jewish practices, they identify with the Jewish people.

Jews and Chinese have encountered each other for a thousand years or more, beginning with the Jewish traders who went to China along the Silk Road in the 9th century. In the 20th century, China received Jewish refugees fleeing the Bolshevik Revolution, the Russian Civil War, and later the Nazi persecution.
http://en.wikipedia.org/wiki/History_of_the_Jews_in_China
http://www.jcpa.org/dje/articles2/china.htm

"Shanghai
was an important chapter in Chinese Jewish history in the 20th century since they saved somewhere between 18,000 and 25,000 European Jews escaping Hitler. Other important communities were in Harbin, Tsin Tzin, Hong Kong." As fascism tore apart Europe, Shanghai's status as a free port made it a magnet for refugees.
http://en.wikipedia.org/wiki/Shanghai_Ghetto
Shanghai Ghetto
http://en.wikipedia.org/wiki/Shanghai_Ghetto
Several months ago, Professor Xu Xin of Najing University received an award from Bar Ilan University in Israel. He teaches graduate courses on the Jews of China and is partially responsible for the renewed relationship between Israel and China. Due to my friend Xu Xin, there are about 600 Chinese PhD candidates now studying in Israel. They take this knowledge back to the people of China. In February (2003) the JGS of Michigan along with Historical Society of MI brought Xu Xin to Detroit. He spoke to an audience of over 500 and it was video taped and presented on local television.

The Sino-Judaic Institute has been for many years sending copies, in Chinese of "The Encyclopedia Judaica to Chinese Universities". The main important books on this subject are: "Chinese Jews" authored by William White
http://www.absoluteastronomy.com/topics/Kaifeng_Jews
"The Man Who Changed the Face of Shanghai" - an article that appeared in The New York Times on Oct. 2, 2014, discusses Sir Victor Sassoon and his business. Sir Ellice Victor Sassoon, the third baronet of Bombay, and his Baghdadi Jewish family. Sir Victor moved his family empire built on opium and cotton from Bombay to Shanghai, initiating the real estate boom that would make it into the Paris of the Far East.
http://www.nytimes.com/2014/10/05/travel/the-man-who-changed-the-face-of-shanghai-.html?_r=0
---
The Jews of China
This site offers some good information about this part of the Jewish past
http://www.kashrus.org/asian/china.html
http://www.haruth.com/JewsChina.html
---
Kaifeng
Located in the province of Hunan (Henan), just south of the Yellow River. It was once the capital of Hunan province. At it's peak (under the Ming Dynasty, 1368-1644) it numbered some 5,000 Jews, has dwindled to no more than a few hundred. In the last Chinese census in which Jews were allowed identify themselves as Jews (1988) there were some 700 to 1,000 Yotai in Kaifeng. There is a small Jewish museum in Kaifeng that commemorates the hundreds of years of Jewish history in this ancient land. According to historical records, a Jewish community (with a synagogue built in 1163) lived in Kaifeng from at least the Southern Song Dynasty until the late nineteenth century. (Wikipedia)
"Jews of Kaifeng"
An interesting article appeared in the October, 1907 issue of National geographic, vol. 18, no. 10, page 621-632 and includes numerous photos.
http://en.wikipedia.org/wiki/Kaifeng_Jews
http://www.youtube.com/watch?v=edhtdoPukk0
"Minyan in Kaifeng"
Produced by Gorps Productions. The National Center for Jewish Film
www.jewishfilm.org
http://www.youtube.com/watch?v=Ubp8W3vth2o
Interesting presentation of Kaifeng
http://www.jewish-holiday.com/kaifeng.html
---
Books
"The Jews of Kaifeng, China"
By Professor Xu Xin
---
"The Jews of Kaifeng"
Authored by Beth Hatefutsoth, The Nahum Goldman Museum in Israel - 'The sect that plucks out the sinews'
http://www.sino-judaic.org/
---
"Mandarines, Jews, and Missionaries"
Authored by Michael Pollak.
From a posting by Betty Provizer Starkman
bettejoy@aol.com
Arguably, Professor Xu Xin not only knows more about
Jews
than anyone in his native
China
, but he knows more about
Jews
than many
Jews
. The 48-year-old director of the Center for Judaic Studies at Nanjing University has been ensconced at Harvard University's Center for
Jewish
Studies since January, wrapping up work on his book about
Kaifeng Jewry
. He has already written a book on anti-Semitism, and penned numerous articles on the subject of
Jews
http://jewishsf.com/bk980410/sfaxu.htm
http://www.khazaria.com/xu.html
http://www.absoluteastronomy.com/topics/Kaifeng_Jews
---
Kosher and Jewish China
www.kosherdelight.com/China.htm
http://www.tabletmag.com/news-and-politics/28439/kosher-chinese/
http://www.chinahelp24.com/kosherfood.htm
---
Nanjing University
Xu Xin is a professor of Jewish studies
http://www.oakton.edu/user/~friend/xuxin_trips.html
http://www.nju.edu.cn/cps/site/njueweb/fg/index.php?id=187
http://www.oakton.edu/user/~friend/chinajews.html
http://www.sino-judaic.org/index.php?page=jewish_studies_situation
---
Shanghai

Jewish home on Gaoyang Road, home to many of the 18,000 European Jewish refugees seeking refuge in Shanghai's Hongkou district
The British established Shanghai as a treaty port in the 1840s. This act allowed many thousands of refugees to find a new home and be saved from the Nazi persecutions.
German Jewish Refugees, 1933-1939
www.srvhs.org/.../Reading%20US%20Reaction%20to%20Holocaust.doc
http://www.all-art.org/Visual%20History/452.htm
Shanghai Ghetto Documentary
Twenty thousand Jews found refuge from the Nazis in Japanese dominated Shanghai. Five internees and two historians describe the ingenuity of Jews who, in a land of appalling poverty, created a fully functioning community. Old footage as well as new bring this little-known episode to life. I saw this movie, and although it is a bit too long and repetitious, it is well worth your time. Produced by Dana Jankowicz-Mann and Amir Mann. Rebel Child Productions
www.shanghaighetto.com
http://en.wikipedia.org/wiki/Shanghai_Ghetto
http://www.jewishsoftware.com/products/The_Shanghai_Ghetto_
Documentary_DVD_1565.asp
Jews, the Holocaust and Shanghai
http://holocaust.hklaw.com/essays/2006/20063G.htm
http://www.ushmm.org/wlc/en/article.php?ModuleId=10007091
Shanghai Jewish Burials
Some names are listed on the IAJGS Cemetery database.

http://www.shanghaijewishmemorial.com/asianwallstreet.htm
http://www.iajgsjewishcemeteryproject.org/china-inc-hong-kong-a-macao/shanghai.html
http://www.bristol.ac.uk/history/customs/ancestors/shanghai.html
http://www.rickshaw.org/tombstones.htm
Shanghai Jews
Contact Ralph Harpuder
harpuder@aol.com
http://www.rickshaw.org
Shanghai Jews as seen by Chinese
Shanghai Municipal Police
Jews were a part of this municipality force. Surnames are in this database which includes other information in many cases.
http://mail.bris.ac.uk/~hirab/smp2.html
Shanghai Synagogue
visit and to other Asian Jewish sites
www.chinajewish.org/Links.html
Safe Haven: 2 Immigration and settlement
Admission of German Jews to Shanghai
http://www.naa.gov.au/Publications/research_guides/guides/haven/
chapter2.htm
Encyclopedia includes a map of Shanghai in 1933
www.en.wikipedia.org/wiki/Shanghai
---
Synagogues of China
http://www.Jewishpostcardcollection.com
A listing of synagogues can be found at this site. Look for the list at the lower left of index page
http://mavensearch.com
http://www.jewishworldreview.com/0298/china1.html
http://www.jewishvirtuallibrary.org/jsource/Judaism/synchina.html
---
Telephone Directories on the Web
http://www.freedirectories.com/
---
The Center for Research and Study of the Sephardi and Oriental Jewish Heritage
Hebrew University of Jerusalem
Mount Scopus, Jerusalem 91905
Israel.
Phone +972 2 883962
http://orthohelp.com/geneal/sefardim.htm
http://www.folklore.org.il/misgav.htm
http://www.jewish-studies.com/Research_Institutes/Israel/
---
Translating Services - Languages
Just in case you didn't think of it, contact a nearby university or college's foreign language department. They may offer to write letters and translate letters into English. A nominal fee is usually charged.
http://www.i8899.com/translate/
India

http://multiculturaljew.blogspot.com/
Of a total population of 944,580,000, India's Jewish population is less than 5,000 and mostly centered in and around Bombay. There are no Rabbis officiating at any of the remaining synagogues. The Kerala Synagogue is the oldest house of worship in the British Commonwealth.
Jews have been a presence in India back to antiquity. The Jewish population increased during WW II as many Jews sought refuge here from the Nazis. Not long after, more than half of the Jewish community immigrated to Israel. There were only 29 synagogues left in the 1960s and now there are 18 left.
The Indian Jewish Community is mainly divided into three sects: Bene Israels from Konkan and Mumbai (Bombay); Baghdadi from Mumbai (Bombay) and Kolkata and Cochinis from Kerala.
In 1960, there were 20,000 Jews in India, mostly in the larger cities.
http://www.rahelsjewishindia.com/
---
Books
"Jewish Portraits, Indian Frames: Women's Narratives from a Diaspora of Hope"
Authored by Jael Silliman and published in 2001 by Seagull Books Pvt. Ltd., Calcutta
---
"Mammalia of India"
Authored by Frank Finn. A New and Abridged Edition, - thoroughly revised and with an Appendix on Reptilia.
---
"Temples at Srisailam: A Study of Art, Architecture, Iconography and
Inscriptions"
Authored by Anuradha, V.
Cities
and Towns in India

Map of Jewish Communities in India
http://upload.wikimedia.org/wikipedia/commons/9/9f/Indian_Jews
_communities_map.png
---
Agra
Once had a Jewish presence
http://www.koach.org/koc_5767_av_swarren.htm
http://www.infohub.com/TRAVEL/SIT/sit_pages/11325.html
http://www.hotelrajat.com/Maharashtra/alibag.html
---
Alibag
A small village outside of Mumbai. Many of the Jews from the towns and villages around Mumbai have worked in the oil industry.
http://www.jewishlens.org/wp-content/uploads/2014/04/Oil-pressers-Alibag-India-2001-copy.jpg
---
Bangalore
The Chabad Houses hold services here.
http://bangalorebuzz.blogspot.com/2008/12/jews-were-here-180-years-ago.html
http://worship.youmagix.com/India/Karnataka/Bangalore/jewish
-synagogue.php
http://www.iajgsjewishcemeteryproject.org/india/bangalore.html
---
Bnei Menashe
These practicing Jews came to the India-Myanmar border by way of China. They claim that their ancestors were from the Ten Lost Tribes and wandered from Israel to this remote area. In recent years, more than 5,000 have embraced Orthodox Jewish practice and attend mud and bamboo synagogues. It is estimated that some 8,000 of these Jews, from India's border states of Manipur and Mizoram, and who claim descent from the son of biblical Joseph, now live in Israel. Few Western Jews have ever visited the community which is located in Imphal, the capital of the northeast Indian state of Manipur. Hadassah Magazine offers information and photos of these Jews in their August/September 2002 issue.
http://www.timesonline.co.uk/tol/news/world/middle_east/article
7108970.ece
http://adaniel.tripod.com/manipurjews.htm
---
Bombay (Mumbai)
It has a Jewish presence.
http://www.philsego.com/travel/mumbai.htm
http://www.cultureunplugged.com/play/136/The-Bombay-Jews
http://www.jewishvirtuallibrary.org/jsource/Judaism/indians.html
http://gilmarks.com/wordpress/?p=17
Geneticist helps Mumbai Jews reinforce sense of identity
http://timesofindia.indiatimes.com/archivelist.cms?year=2002&month=11&starttime=37586
---
"The Bombay Jews"
A documentary with a duration of 29 minutes follows points: India and Judaism; Hebrew and Marathi Language; Important Synagogues; Bene Israels; Customs; Intern Faith Meetings and Challenges ahead for the Community. This documentary also contains traditional music in the background
http://www.cultureunplugged.com/play/136/The-Bombay-Jews
---
Calcutta
---
Cochin (Kochi)

Interior view of Cochin Synagogue
http://www.A History of the Parur Synagogue
Trial by fire, inquisition and neglect. Authored by Jay Waronker & Shalva Weil Many people have heard of the Jews of Cochin (today Kochi) in southwestern India, but far fewer know that there were in fact other small Jewish communities over the centuries in this same region of the country, each revolving around a synagogue. Eight such buildings, all located in the central part of the State of Kerala, survive in some form today. The most famous of these synagogues is the Paradesi synagogue in Jew Town, Cochin, with its beautiful blue tiles imported from China. In 1968, Indira Gandhi attended its quarter-centenary celebrations and the Indian government issued a special commemorative stamp on the occasion. Today, there are only nine Paradesi Jews left in Jew Town, and a Chabad Rabbi conducts the services, pulling in Israeli backpackers and American and other Jewish tourists to make up the Minyan.
read more online
]
http://www.asianjewishlife.org/
http://www.asianjewishlife.org/pages/AJL_archive.html

Pardesi Synagogue
Built in 1568 in south India and one of the oldest existing synagogues in the world. It sits at the end of Cochin's Jew town road.
The hand painted tiles were created in Canton, China. The oil burning chandeliers were crafted in Belgium. There are less than ten families using this synagogue, whereas in the past the congregation once numbered in the thousands. The little community never numbered more than 2,500. It flourished for centuries on the southwestern coast of India until 1948 with the birth of Israel when most of the Jews left for their homeland.
http://en.wikipedia.org/wiki/Kochi,_India
http://1.bp.blogspot.com/-fsMGw1h-b_o/TfKvKkEOrrI/AAAAAAAAAAM/0PVBJ_OEwBI/s1600/Jew_
Cemetery_-_Old_Cochin_-_Kochi_-_India_AdamJonesFreeservers.JPG
http://www.jewishvirtuallibrary.org/jsource/Judaism/synindia.html
http://varnam.org/blog/2009/08/paradesi-synagogue-kochi-india/
http://en.academic.ru/dic.nsf/enwiki/888799
---
Delhi
Once had a Jewish presence. There is a Books & Periodicals Agency operated by Ekta Gupta and it is located at
B-1, Inder
Puri, New Delhi - 110012 India.
Email bpage@del2.vsnl.net.in
http://www.nationalfinder.com/jbs/index-3.htm
http://www.srijanfoundation.org/areas-of-interest-to-srijan-foundation/religion/jews-in-delhi-dec-07/
http://en.wikipedia.org/wiki/Indian_Jews
---
Global Gazetteer
A great web site. It is a directory of 2,880,532 of the world's cities and towns, sorted by country and linked to a map for each town. A tab separated list is available for each country.
www.calle.com/world/
---
Goa
Jews from Goa were of Portuguese ancestry and eventually migrated to Amsterdam and London. Most were in the same business of diamonds in Goa, and had Portuguese surnames. When many from the Portuguese community left, the Jewish community of Goa went to Amsterdam and/or London. There are some people in India of mixed Portuguese ancestry also, but the community of Jews were connected more with Amsterdam, though they originally came from Portugal. Chabad House holds services here.
http://en.wikipedia.org/wiki/Goa_Inquisition
http://www.jewishvirtuallibrary.org/jsource/Judaism/indians.html
http://talesofawanderingjew.blogspot.com/2007/02/ever-present-israelis-in-goa.html
---
India
1952 Movie clip
http://www.movietone-portraits.com/
---
India's Jewish population
Today totals about 5,000 in a population of over 944,580,000 who are mostly Hindus or Muslims. There has been very little assimilation. Most of the remaining Jews live in and around the city of Bombay (Mumbai).
There was an article published in late 2002 'Geneticist helps Mumbai Jews reinforce sense of identity' and it may still be in the Times of India archives
http://timesofindia.indiatimes.com
This referenced layman's article discusses Y-Chromosome evidence linking the Bene Israel community in India to Aaron the Priest. The Bene Israel claim descent from the "10 lost tribes," which were supposedly expelled from the Northern Kingdom (Israel) ca. 720 B.C.E. by the Assyrians, more than 130 years before the destruction of the Solomon's Temple in the Southern Kingdom (Judah).
Modern Biblical scholars see evidence in the Bible of a rivalry between the priests in the North (Shiloh) and the South (Jerusalem), and link the priesthood in the north with the descendants of Moses not Aaron. At any rate, according to tradition, Moses and Aaron were brothers, and thus would have shred the same Y-Chromosome. This information was submitted by Jake Goldstein
http://en.wikipedia.org/wiki/Jewish_population
http://www.jcpa.org/dje/articles2/india.htm
http://www.hinduunity.org/jewsofindia.html
http://www.forbes.com/2007/08/05/india-jews-antisemitism-oped-cx_gw_0813jews.html
---
Jaipur
Once had a Jewish presence
http://worship.youmagix.com/India/Rajasthan/Jaipur/
http://www.info2india.com/south-india/the-antique-sellers-of-jew-street-location.htm
http://www.india-tours-operator.com/indian_jewish.asp
http://www.thejewishmuseum.org/core/uploaded/pdfs/indiaebrochure2010
.pdf
http://www.talesofasia.com/rs-194-kochi.html
---
Manali
Chabad holds services here
http://www.chabad.org/news/article_cdo/aid/968330/jewish
/Finding-a-Jewish-Home-in-Northern-India.htm
---
Mizos
These are people who believe that they are descended from the Lost Tribes. About 350 of them have moved to Israel.
http://www.sepiamutiny.com/sepia/archives/000238.html
http://www.time.com/time/asia/magazine/99/0906/mizos.html
http://www.religioscope.info/article_250.shtml
---
Refuge and Rescue
Two complementary exhibits on the related themes of refuge and rescue are featured at the Holocaust Education Centre, in Vancouver, BC.
http://bctf.bc.ca/ezine/archive/1999-10/support/Refugeand
Rescue.html
---
Telephone Directories on the Web
http://www.thephonebook.bt.com/publisha.content/en/search/
international/index.publisha
Indonesia

http://aangirfan.blogspot.com/2011/06/jews-in-indonesia.html
There are about 25 Jews living in Indonesia
http://en.wikipedia.org/wiki/History_of_the_Jews_in_Indonesia
http://en.wikipedia.org/wiki/List_of_Asian_Jews
http://eamusic.dartmouth.edu/~larry/misc_writings/jew_indonesia
/surabaya.html
http://www.joshuaproject.net/people-profile.php?rop3=210097&rog3=ID
http://www.lonelyplanet.com/thorntree/thread.jspa?threadID=1945496
Japan
http://www.biblemysteries.com/library/tribesjapan.htm
The chief Rabbi of Tokyo was Rabbi Marvin Takayer who retired to Great Neck, New York
http://en.wikipedia.org/wiki/History_of_the_Jews_in_Japan
http://www5.ocn.ne.jp/~magi9/isracame.htm
http://www.time.com/time/magazine/article/0,9171,864048,00.html
---
Books
The "Fugu Plan"

A book written by an American rabbi who served in Japan long after WWII, but he did some research about the Jews were given transit visas by a Japanese embassy official in Poland just before the German invasion. He accumulated experiences of many survivors from the ghetto in Shanghai, and wrote all of these stories as if they were experienced by five persons. If you are interested in the Japanese attitude towards Jews at that time, it is worth reading. Available from amazon.com
http://www.judaism.com/display.asp?etn=FICCH

Picture of a mezuzah hanging at the front door of a Japanese restaurant
Korea, (South)

A Jewish man affixing a mezuzah to his door in South Korea
http://www.crownheights.info/index.php?catid=51&startpos=69
South Korea is surrounded by China to the west, Japan to the east and borders North Korea to the north. The country has a population of almost 50 million, but very few Jews live in the country, although a few Jewish businessmen come and go from time to time.
There are an estimate 100 Jews living in South Korea. It is a developed country with a full democracy and is a leader in technology including electronics, automobiles, ships, petrochemicals and robotics.
Koreans call their country Daehan-minguk (Republic of Korea) and Hanguk for short (Korea). Until the 19th century, Korea was known as the Hermit Kingdom because it was so isolated from the rest of the world in terms of trade. It gained its independence from Japan in 1945.
http://en.wikipedia.org/wiki/History_of_the_Jews_in_South_Korea
http://www.jewishvirtuallibrary.org/jsource/vjw/south_korea.html
http://www.haruth.com/Asian_J.htm
Manchuria Memories
http://www.jewishworldreview.com/0298/manchuria.html

Malaysia
Penang Jewish Cemetery is billed as the oldest single Jewish cemetery in Malaysia. Spread across more than 38,000 sq ft, this cleaver-shaped plot of land was established in 1805. Set on Jalan Zainal Abidin (formerly known as Yahudi Road) it used to be a green 'lung' but much of it has now been cemented over.
The Penang Jewish Cemetery houses over 107 graves, most of which resemble traditional ossuaries (triangular vaulted-lid caskets) such as those found in Israel. The oldest Jewish tombstone, dating back to 1835, belongs to that of Mrs. Shoshan Levi, the benefactor who donated the land on which the cemetery was set up
http://www.penang.ws/penang-attractions/jewish-cemetery.htm
Philippines

Temple Emil Manila, 1940
http://asianjewishlife.org/pages/articles/AJL_Issue_13_Nov2013/AJL_Feature_Jewish-Refugee-Rescue-Philippines.html
---
Books
"Escape to Manila: From Nazi Tyranny to Japanese Terror"
Authored by Frank Ephraim and published by the University of Illinois Press
---
The Jewish community of the Philippines, though quite small as compared to Shanghai, was not confined to a ghetto. Two hundred Jewish refugees reached Manila (population of one million) by the end of 1938. By mid-1940, there were 1700 Jews in all of the Philippines, 1200 of them refugees. The Japanese occupation extended from January 1942 to March 1945 and interred the Jewish congregants.
http://www.jewishtimesasia.org/manila/269-manila-communities/576-philippines-jewish-community
http://bjruth.com/History_of_the_Jews.html
http://en.wikipedia.org/wiki/History_of_the_Jews_in_the_Philippines
http://www.jewishphilippines.net/
http://www.jewishvirtuallibrary.org/jsource/vjw/philippines.html
http://www.haruth.com/JewsPhilippines.html
Freider Brothers Rescued Jews and helped them in the Philippines
http://staugustine.com/stories/020705/nat_2873905.shtml
http://rescueinthephilippines.com/?p=130
http://rescueinthephilippines.com/?page_id=292
Temple Emil
Founded in 1919 and the adjacent Bachrach Center was built in 1942. The Rabbi was Joseph Schwarz and the cantor was Joseph Cysner. During the Battle of Manila, the Temple was destroyed. It was the only synagogue on United States territory that was destroyed in WW II.
http://digital.cjh.org/R/?func=dbin-jump-full&object_id=210309&local_base=GEN01
http://en.wikipedia.org/wiki/File:Temple_Emil.jpeg

Singapore


Chessed El Synagogue, Singapore, 1980
http://www.bh.org.il/database-article.aspx?48718
There are an estimated 300 Jews living in Singapore according to The Jewish People Policy Planning Institute Annual Assessment 2004-2005
http://www.jewishvirtuallibrary.org/jsource/vjw/singapore.html
http://en.wikipedia.org/wiki/History_of_the_Jews_in_Singapore
http://en.wikipedia.org/wiki/History_of_the_Jews_in_Malaysia
http://www.bh.org.il/database-article.aspx?48718
http://www.singaporejews.com/our-community.html
http://www.mavensearch.com/synagogues/C3431
Taiwan

Jewish Taipei
http://www.haruth.com/jw/JewsTaiwan.html
There are an estimate 150 Jews living in Taiwan.
http://www.jewishtimesasia.org/taipei/272-taipei-communities/775-taiwan-jewish-community
http://en.wikipedia.org/wiki/Judaism_in_Taiwan
http://www.jweekly.com/article/full/33527/overshadowed-by-china-a-few-jews-hold-on-in-taiwan/
http://blogs.forward.com/bintel-blog/13446/
http://www.taiwanderful.net/forum/kosher-food-and-jewish-community-taiwan

Thailand

Temple Beth Elisheva
http://www.hadassahmagazine.org/2014/03/17/jewish-traveler-bangkok/

http://global-travel-info.com/bangkok-jewish-travel.html/
http://www.wikipedia.org/wiki/Bangkok
http://travelingrabbi.com/countries/asia/thailand-2
Bangkok is the capital and most populous city of Thailand. It is known in
Thai
as
Krung Thep Maha Nakhon
. The city occupies 1,568.7 square kilometers (
605.7 sq m
i) in the
Chao Phraya River
delta in Central
Thailand
, and has a population of over eight million, or 12.6 percent of the country's population. Over fourteen million people (
22.2 percent
) live within the surrounding
Bangkok Metropolitan Region
, making
Bangkok
an extreme
primate city
,
dwarfing
Thailand
's other urban centres in terms of importance.
ABOUT BANGKOK
Three sizeable synagogues are in operation across the city, catering to the daily spiritual needs of local and visiting Jews alike. Prayer services take place regularly at the various locations; Beth Elisheva in the Sukhumvit Road area, Even Chen in the Silom Road area, and the Chabad House in the Kaosarn Road area. The kosher restaurant located on the backpacker center of Khao San Road offers a broad range of delectable fares; and kosher foodstuffs produced locally and imported from

Israel

and the

United States

are also available.
Jews settled here in the Siamese kingdom of Ayutthaya which is now 95 percent Buddhist. Spanish missionaries noted seeing Jewish merchants in 1600 and a synagogue. One of the earlier families to settle here in the late 19th century, were the Rosenbergs who established some of the first modern hotels in Bangkok.
An article in the February 2014 issue of Hadassah Magazine, written by Dan Fellner offers some very interesting details.

http://www.hadassahmagazine.org/site/apps/nlnet/content.aspx?c=twI6LmN7IzF&b=5698175&ct=13661615
---
Books
"Jews in Thailand"
Co-authored by Ruth Gerson and Stephen Mallinger and published by River Books
---
"Bangkok Inside Out"
A travel guide offering useful travel information and published by Equinox Publishing
---
Cemetery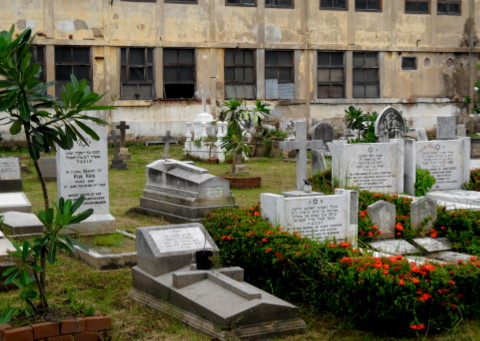 The Jewish section is on the left side of the photo
http://www.tour-bangkok-legacies.com/protestant-cemetery-bangkok.html
There is a small Jewish cemetery adjacent to a Protestant cemetery established in 1997. Located on New Road (Charoen Krung Road) about 200 meters past the Menam Hotel on the same side of the road, opposite a petrol pump. There is a bank branch on the corner. The Jewish Cemetery is kept locked. The keys may be obtained from either Rabbi Kantor or the President of the Jewish Association of Thailand, Mr. Abraham Kashani. The Jewish Cemetery is adjacent to the Protestant Cemetery but completely separated from it by a high wall
http://www.iajgsjewishcemeteryproject.org/thailand/bangkok.html


http://jewishphotolibrary.smugmug.com/ASIA/ASIAsoutheast/THAILAND/TH
BangkokJewishCemetery/i-w8hKjPT/A
Synagogues
Even Chen Synagogue
Soi Chamenkrung 42/1 New Road

http://www.jewishthailand.com/templates/articlecco_cdo/aid/
913059
/jewish/
Bangkok.htm
Ohr Menachem Chabad House
96 Ram Buttri Road
Banglampoo
Phone: 66-2-629-2770

bkk@chabadthailand.com
Temple Beth Elisheva
121 Soi Sai Nam Thip 2
Sukhumvit Soi 22
Phone:66-2-663-0244