An island west of Great Britain, forming part of the United Kingdom of Great Britain and Ireland. The earliest mention of Jews in Ireland appears toward the end of the eleventh century.
The island of Ireland is occupied by the Republic of Ireland and Northern Ireland. There have been numerous conflicts through history, but now there is peace. The tricolor flag of Ireland was created in 1848. The orange stands for Irish Protestants, green for Irish Catholics and white stripes for the hope of peace between the two groups. Dublin is the capital of the Republic of Ireland, where 40% of the nation's population lives. There are approximately 1 million inhabitants living in Dublin and only 3.5 million today. The Jewish community is shrinking because of emigration to England, or North America, and a few to Israel.
Belfast is the second largest city and the largest in Northern Ireland with approximately 300,000 people.
The population of Ireland in 1800 was almost twice as large as the US. In 2000, the population of the US was more than sixty times that of Ireland.
Many surnames starts with "O" which means "the grandson of ..." and many with "Mac" which means "son of ..."
Most of Ireland's present Jewish community dates from the late 19th century when Jews from Lithuania fleeing pogroms arrived in Dublin, Belfast, Limerick and Cork. Today, it is estimated that there are some 1,000 Jews living all over Ireland - mostly in II. There is a great deal of information for those who may find themselves in Ireland in an article in the March 2008 issue of Hadassah Magazine authored by Alan M. Tigay. Some of the highlights are included on this page.
Jews of Ireland were quite active from 1880 to the end of the 1940s. There are (in 2008) about 1,200 known Jews. Jews appeared, as indicated in the "Annals of Innisfallen" - a chronicle of medieval Irish history in 1079 when it was noted that "five Jews came from over the sea with gifts to Taridelbach (King of Munster) and then were sent back again over the sea?
http://en.wikipedia.org/wiki/Jewish_Congregation_in_Ireland
http://www.jewishencyclopedia.com/view.jsp?artid=169&letter=I#516
Between the 12th and 18th century, small numbers of Jewish refugees from Spain and Portugal, came and went but by the beginning of the 19th century, the Jewish community numbered only three families. More Jews emigrated to Ireland in the 1820s from England, Germany and Poland, but the biggest Jewish impact on Ireland in the mid-19th century came from one man who never lived there - Baron Lionel de Rothschild, the first Jew elected to the British House of Commons. Rothschild contributed "a sum far beyond the joint contributions of the Devonshires, and Herefords, Lansdownes, Fitzwilliams and Herberts, who annually drew so many times that amount from their Irish estates" according to an article in the Dublin newspaper of the time.
In 1880, Dublin's Jewish community numbered 450 and were mostly quite prosperous. In 1900, Dublin had more than 3,000 Jews with smaller numbers living in Cork, Belfast, Limerick, Waterford and Londonderry. Lithuanian Jews began arriving in 1881. Many became peddlers, petty traders and moneylenders "credit drapers and weekly men" in the local parlance, according to Alan Tigey.
Some of these immigrants got their "five pound stake" from the Hebrew Philanthropic Loan Society. The second generation moved up the occupational ladder, as Jews became a major force in the manufacture of clothing and furniture.
Why should a new history of the Irish Jewish community be of any great interest? March 2007 has seen the release of preliminary results for the Republic of Ireland's 2006 census of population. Out of a total population of 4.2 million, a mere 1,900 are Jewish, barely above that community's level of 1,600 in 1991. By way of contrast, the Muslim population over the same fifteen years' period has increased nine fold from 3,900 to 35,500, while the number of Eastern Orthodox Christians has shot up from a tiny presence of less than 400 to reach 20,800. Even the ethnic composition of the majority Catholic faith has changed, as the current Irish population also comprises 63,000 Poles and 25,000 Lithuanians.
http://www.drb.ie/more_details/08-09-28/Citizens_of_the_Republic.aspx
Ireland also had a President of Jewish descent, Erskine Childers. One of his ancestors was a 16th century Sefardic refugee. Actor Daniel Day-Lewis' mother was an English-Jewess who bore him in London, but he became a citizen of Ireland in 1993.
http://www.jewishencyclopedia.com/view.jsp?artid=169&letter=I
---

Books
"Citizens of the Republic"
Authored by Manus O'Riordan
http://www.drb.ie/more_details/08-09-28/Citizens_of_the_Republic.aspx
---
"Dublin's Little Jerusalem"
Authored by Nick Harris, A & A Farmar, 229 pp
ISBN: 978-18991899047901
---
"German-Speaking Exiles in Ireland 1933-1945"
Edited by Gisela Holfter
---
"Jewish Ireland in the Age of Joyce"
Authored by Cormac O Grada and published by Princeton University Press. It is a socioeconomic history of the community during its peak years.
---
"Jews in Twentieth Century Ireland: Refugees, Anti-Semitism and the Holocaust"
Authored by Dermont Keogh
---
"Jews of Ireland"
Authored by Hyman, Louis from Earliest Times to the Year 1910
ISBN: 0902528076 / 0-902528-07-6
---
"Limerick Boycott 1904: Anti-Semitism in Ireland"
Authored by Dermot Keogh and Andrew McCarthy, Mercier Press, 163 pp, €20
ISBN: 978-1856354530
General Ireland Genealogy
Information
1901 Northern Ireland Census
The public records office in Dublin was destroyed in a fire in 1922. The following site is useful
http://proni.nics.gov.uk/records/1901cens.htm#intro
---
1926 Irish Census
After appearing to stall, the release of the 1926 Irish census (for the 26 counties of the Republic only) may have moved forward a notch or two. Or (more likely) it may not. A private member's bill has been published to amend the wording of the Statistics Act. It calls for special 'heritage status' treatment for the 1926 census as it was the first population census of the new Irish state, and to allow it to be released 'to the public for genealogical, historical and other research'. As a private member's bill, this has little chance of being enacted. Very few private member's bills get past a second reading (only a handful have succeeded since 1937)
http://irish-genealogy-news.blogspot.ie/2013/05/1926-irish-census-moves-closer-to.html
---
Bibliography, Local Research Libraries and other Sources
Links are offered for England, Scotland, Wales, Ireland, Channel Islands, Isle of Man and Gibraltar
http://www.jewishgen.org/jcr-uk/Community/local_research.htm
---
Archives
http://www.census.nationalarchives.ie/exhibition/dublin/main.html
National Archives - in Dublin
http://www.natinalarchives.ie/
http://www.familylink.com/ppc/?ss=ireland%20ancestor&pagename=ppcgd&eng=ga&ft=1&gclid=CN-N0o36168CFQgJRQodaSKMAA
---
From a posting on 2/6/04 "In regard to Gerry Esterson's inquiry regarding Jewish immigrants to Ireland and their names, may I point out that I have seen no substantial research that has dealt with Jewish immigration to Northern Ireland (Belfast) as opposed to Southern Ireland or the Irish Republic.

It is well-known that the southern part was populated by Litvaks, particularly from one or two shtetls. Personally, I do not know if the northern part had a more expanded population, although I do have relations who were in Belfast who originated in Lithuania.

There are a number of substantial family trees of Jews who settled in Ireland which provide numerous names upon which Gerry can base his research. One of these is the Yodaiken family tree, another is the Clein family tree and yet another is the Noyek (Noik) family tree. I am sure if Gerry contacts either Lenny Yodaiken in Israel and Davida Noyek Handler in Las Vegas that he will be more than overwhelmed by names to use in his research!

In addition, the portion of the 1901 UK Census which deals with Belfast can be checked. The Jews lived on a few specific streets and therefore their names are available that way. The Census for southern Ireland can be helpful that way too. Ann Rabinowitz annrab@bellsouth.net
---
Briscoe, Robert and Ben

http://www.jewishireland.org/irish-jewish-history/history/
Robert, in the 1950s served as Dublin's mayor and was succeeded a generation later by his son, Ben. Robert also smuggled arms for the Irish Republican Army
http://en.wikipedia.org/wiki/Robert_Briscoe_(politician)
http://www.stormfront.org/forum/t296316/
---
British Newspaper Library Catalogue

http://www.library.carleton.ca/library-news
Offers over 50,000 newspaper and periodical title holdings in Colindale. The catalogue includes all UK national daily and Sunday newspapers from 1810 to the present; most UK and Irish provincial newspapers, some from the early 18th century upwards; selected newspapers from around the world in western and Slavonic languages dating from the 17th century upwards, including extensive holdings from Commonwealth countries and many other nations, and a wide range of UK and Irish popular periodicals coverall subjects from fashion, pop music, and cinema, to sports, hobbies and trades.
http://www.bl.uk/collections/newspaper/

for further information or for the site itself
www.bl.uk/collections/newspaper/newscal.html
The British Library
Newspaper Library
Colindale Avenue
London, NW9 5HE, United Kingdom
Telephone: +44 (0) 20 7412 7353 Fax: +44 (0) 20 7412 7379
Email: newspaper@bl.uk
http://www.bl.uk/onlinegallery/ttp/ttpbooks.html
http://catalogue.bl.uk/F/?func=file&file_name=login-bl-list
---
Castletroy, Limerick Jewish Cemetery

http://en.wikipedia.org/wiki/Castletroy
Cemetery Information and Funeral Chapel
http://www.telusplanet.net/public/mtoll/locate2.htm
http://www.cyndislist.com/cemetery.htm
---
Chaim Herzog

http://www.nndb.com/people/615/000056447/
Israel's sixth president was born at 185 Clifton Park Avenue, Belfast, in 1918. His father, Rabbi Isaac Herzog, was Israel's first chief rabbi.
http://www.ulsterhistory.co.uk/chaimherzog.htm
---
Chief Rabbi of Ireland

http://www.theguardian.com/commentisfree/belief/2012/dec/19/
chief-rabbi-archbishop-problems
Yaakov Pearlman who left a congregation in Rochester, New York to work with the 1,400 Jews living in Ireland. The rabbi is a native of Manchester, England and was once the youngest rabbi in Britain at age 20. He and his wife, will live in Dublin.
http://homepage.eircom.net/~jewishireland/rabbi.htm
---
County Antrim
The several Russian Jewish families that arrived in Belfast were given a safe haven from the pogroms and vicious persecution of their homeland. Despite economic hardships, these families managed to rent a small house in the Carlisle Circus, New Lodge Road and Lower Antrim Road area. They were kindly received by the local inhabitants and, shortly afterwards, established a prayer house on Jackson Street. With an increase in childbirth, the Regent Street School was soon established at the rear of the present Clifton Street Orange Hall. The Greenville Hall Synagogue, located on Annesley Street, opened in 1904, after a significant donation from Sir Otto Jaffe, president of the community and Lord Mayor of Belfast. Three years later, the Jaffe Public Elementary School at the corner of Cliftonville and Antrim Road was founded
http://www.proni.gov.uk/index/research_and_records_held/catalogues_
guides_indexes_and_leaflets/information_leaflets.htm#yourfamilytreeseries
http://www.visitballymoney.com/default.aspx
http://antrim.rootsireland.ie/
http://www.igp-web.com/antrim/
---
Familia
A web-based directory of family history resources held in public libraries in the UK and Ireland. Updated and maintained by the Family History Task Group of the EARL Consortium, Familia is the on-line starting place to find information about materials in public libraries which will help you trace your family history
http://www.familia.org.uk/
http://www.firstthings.com/onthesquare/2013/10/on-creative-minorities?gclid=CO6Z79PBjbsCFcZefgodaj0AMg
http://www.irishtimes.com/ancestor/magazine/articles/uhf_argentina1.htm
http://www.irishtimes.com/ancestor/magazine/articles/uhf_safrica1.htm
http://www.ancestryireland.com/
---
GenGateway
Irish Genealogy has made some recent strides online in the past couple of years. As time passes the amount of resources and genealogy data available to Irish researchers will expand greatly. GenGateway uses this section of the site to outline the available resources that are presently online, whether free or through a subscription website
http://gengateway.com/irish_genealogy.htm
---
Help for anything in Ireland

http://www.timesofisrael.com/irish-jews-face-uncertain-future-as-usual/
Stuart Rosenblatt in Dublin has compiled an incredible database of genealogical information about as many Jews living in Ireland as he has been able to collect. He is very responsive to email, is a good source of information. Of course, as with any genealogical information, the facts he provides should be verified later by other kinds of documentation, but he is a good first source.
http://www.irishjewishroots.com/
Stuart Rosenblatt P.C.
The Irish Jewish Genealogical Society
Jasonia Business Centre
76 Dame Street Dublin 2 Ireland
Email masterc@medianet.ie
Phone ++353 1 677 3808
http://www.jewishireland.org/irish-jewish-history/genealogy/#
---
History of the Jews of Ireland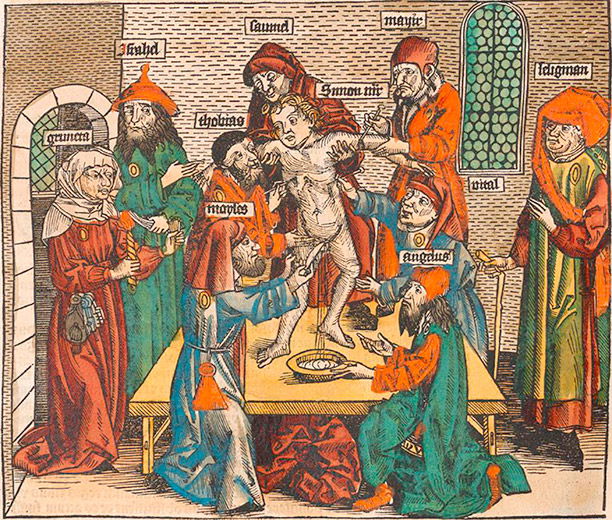 The ritual murder of Simon of Trent, in a woodcut by Michael Wolgemut from the Nuremberg Chronicle, 1493. AKG Images/Ullstein
http://www.historytoday.com/stephen-bowd/jews-and-renaissance
http://en.wikipedia.org/wiki/Talk%3AHistory_of_the_Jews_in_Ireland#Pictures.3F
---
Irish - Jewish

http://jewishmuseum.ie/jews-in-ireland/m_cohensons/
http://www.hagalil.com/golem/diaspora/irland-e.htm
http://www.irishtimes.com/ancestor/browse/records/church/jewish/
http://www.reference.com/browse/irish-jews
---
Irish Jewish History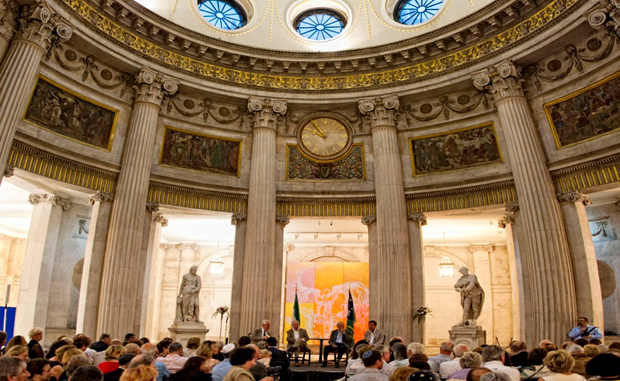 http://www.jewishireland.org/irish-jewish-history/history/
http://www.irishtimes.com/ancestor/browse/records/church/jewish/
Irish Jewish Community Office
Herzog House
Dublin 6
Tel: + 353-(0)1-4923751
Email: irishcom@iol.ie
---
Irish Jewish Museum

"A Nostalgic look at Clanbrassil Street and the Jewish Community""
The second floor houses a former synagogue which is virtually unchanged as a sanctuary of the former Great Synagogue that seated upwards of 100 at a sitting.
3 Walworth Road
Phone 353 1 490 1857
http://www.eecs.tufts.edu/~zblocker/ijm/

http://jewishmuseum.ie/tuesday-21st-august-3-00-pm-a-nostalgic-look-at-clanbrassil-street-and-the-jewish-community/
http://en.wikipedia.org/wiki/Irish_Jewish_Museum
---
IrishJIG
Subscribe to IrishJIG, the Irish Jewish Interest Group at
http://jcpa.org/article/ireland%E2%80%99s-jews-past-present-future/
http://www.irishjewishroots.com/index.php?id=publications2
---
Jewish Genealogical Society of Great Britain
Offers many links of value to researching Irish/Jewish ancestors including many links: National Archives of Ireland; Public record Office for Northern Ireland; UK & Ireland and more at
http://www.jgsgb.org.uk/jgsgb-library
http://www.jewishgen.org/JCR-UK/
---
Jewish Home of Ireland
http://www.jewishireland.org/irish-jewish-communities/institutions-
contacts/community-nursing-home-care/
Danmark Hill
Leinster Road
Dublin 6 Mary Bartlett
Phone 353 1 4972004
http://www.somethingjewish.co.uk/articles/300_jewish_ireland.htm
http://www.haruth.com/JewsIrelandTribeStPatrick.html
---
Jewish Ireland
The website of the Irish Jewish Community
www.irishjewishcommunity.com
http://homepage.eircom.net/~researchers/index.html
---
Jews In The Famine
The Irish famine memorial in Dublin
http://www.irishcentral.com/news/How-New-Yorks-Jewish-community
-tried-to-rescue-Irish-in-great-famine-93505149.html
Many Jews helped and organized and gave generously towards Famine relief, but none were themselves threatened by the Famine. The people who died and emigrated were those who, even in the best years, survived on potatoes they grew themselves on their scraps of rented land. Ireland's Jews were city folk, business people, professionals, merchants -- people who bought their food instead of growing it.
http://en.wikipedia.org/wiki/Talk%3AHistory_of_the_Jews_in_Ireland#Jews_in_the_famine
http://irishamerica.com/2009/08/international-relief-efforts-during-the-
famine/
---
Jews of Ireland Genealogy Page
http://www.irishtimes.com/ancestor/browse/records/land/grva.htm
Community History, Synagogues information, Cemetery information, Research information, a database and much more
http://homepage.eircom.net/~researchers/index.html
http://homepage.tinet.ie/~researchers
http://www.irishtimes.com/ancestor/browse/records/church/jewish/
---
Jewish Representative Council of Ireland

http://www.irishtimes.com/news/social-affairs/religion-and-beliefs/
proposed-amendments-to-jewish-representative-council-constitution-
withdrawn-1.1449769
http://www.eurojewcong.org/ejc/news.php?id_article=89
---
Leopold Bloom
On the James Joyce trail, Sweny's chemist, where Leopold Bloom buys Molly a bar of lemon-scented soap in Ulysses
A Hungarian-Irish Jew
http://www.nytimes.com/2004/06/13/magazine/the-fading-world-of-leopold-bloom.html?pagewanted=all&src=pm
---
Maps

http://www.geschichteinchronologie.ch/eu/irland/EncJud_juden-in-Irland-ENGL.html
http://www.12travel.com/goto/ie_maps/
Open Street Maps
The crowd-sourced mapping project OpenStreetMap has amassed a million contributors since its inception in 2005 and, according to navigation app maker Skobbler, boasts greater accuracy in England, Russia and Germany than rivals such as Google Maps. I tried the site and found an accurate drawing of my father's ancestral town Tal'ne, Ukraine. Almost every country is available as is most towns
http://openstreetmap.org
---
National Gallery of Ireland
Located on Merrion Square West
Phone 353 1 661 5133
Full of works on Hebrew Bible themes.
http://www.nationalgallery.ie/
http://www.clydecourthotel.com/National-Gallery-of-Ireland.html
---
National Museums of Ireland
http://muzeydeneg.ru/eng/?p=281
The National Museum of Ireland has three locations in Dublin and one in County Mayo, with a strong emphasis on Irish art, culture, and natural history. Admission is free to all four museums
http://www.museum.ie/en/tns/visit-the-museum-overview.aspx
http://www.museum.ie/en/site/search-results.aspx?query=Jewish
http://www.museum.ie/en/homepage.aspx
http://www.nmni.com/um/News/Holocaust-Memorial-Day
---
Origins.net
A pay per view site that contains some of the collections of the Society of Genealogists (England)
http://www.origins.net/
---
Public Records Office in Dublin
The Four Courts ablaze during the battle, June 30, 1922
http://en.wikipedia.org/wiki/Battle_of_Dublin
Records were destroyed in a fire in 1922
http://www.proni.gov.uk/index/research_and_records_held/records_not_
held_in_proni.htm
http://dublinca.gov/index.aspx?nid=15
http://chancery.tcd.ie/content/destruction-irish-chancery-rolls-1304-1922
---
Trinity College Library
http://www.telegraph.co.uk/travel/destinations/europe/ireland/dublin
/8337865/Dublin-readers-tips-recommendations-and-travel-advice.html
The oldest college in Ireland and the library holds over 200,000 leather bound books Phone: 353 1 896-1661
http://www.tcd.ie/Library/
---
UK and Ireland Genealogy
A large collection of genealogical information pages for England, Ireland, Scotland, Wales, the Channel Islands and the Isle of Man
http://www.genuki.org.uk/
Cities and Towns of
Ireland

http://en.wikipedia.org/wiki/History_of_Limerick
---
Belfast
If you like digging for information, and have an interest in Jewish Belfast
http://www.jewishbelfast.com/

Annesley Street Synagogue

"Belfast"
An article authored by Phyllis Ellen Funke describing The Jewish Traveler in Belfast, was published in the Hadassah Magazine of November 2003.
The article discusses the first Jewish resident , Manuel Lightfoot, who was a tailor in 1652. The earliest Jewish birth registered is that of the son of Meir Levy in 1849. On July 7, 1871, with only a small Jewish population of an estimated 50, a stone was laid on Great Victoria Street that became the synagogue, Hebrew school and clerical residence. On February 26, 1904, a second synagogue at Annesley Street and Carlisle Circus was established.
http://en.wikipedia.org/wiki/History_of_the_Jews_in_Northern_Ireland
http://en.wikipedia.org/wiki/Belfast_Hebrew_Congregation
There were some 205 Jews in Belfast, five in Londonderry and others elsewhere in Ireland, making a total of 282 Jews by 1891. In 1896, the Belfast Hebrew Ladies Foreign Benevolent Society was formed.
Jewish Belfast
http://www.jewishbelfast.com/
http://www.jewishvirtuallibrary.org/jsource/vjw/Ireland.html
https://www.belfastjewishcommunity.org.uk/
http://www.ancestryireland.com/members-area/local-and-family-history-articles/researching-jewish-families-in-belfast/
Belfast Synagogue
49 Somerton Road
Belfast BT15 3LH
Contact Aaron Engelmeir
Phone 44 2890 775013
http://www.jewishgen.org/jcr-uk/Community/Belfast/index.htm
---
Cork
http://aplaceintimeradio.blogspot.com/2011/04/episode-5-cork-synagogue.html
"There's not much to the Jewish quarter: the Hibernian Buildings, 'Shalom' Park and the Synagogue (you need to arrange entry in advance). The Jewish history of Cork is interesting to read about, but there are not too many artifacts left"
"The Albert Road area around the docks in Cork became a Jewish quarter from the end of the 19th century. Whilst there were some Jews in Cork from the mid 18th century, a big influx of Jews from the Vilna & Kovno areas of Lithuania arrived from the 1880s onwards. These folk were fleeing Russian pogroms and settled in the Albert Road area in houses on Hibernian Buildings, Albert Road, Monrea Terrace and Eastville. People always wondered why Jews settled in Cork, a city in what was then a very Catholic country. Allegedly the immigrants with no English may have thought the port of Cork was in fact 'New York'"
http://www.tripadvisor.com/Attraction_Review-g186600-d2460708-Reviews-Historic_Jewish_Quarter-Cork_County_Cork.html
Sometimes called the "Venice of Ireland" due to the various branches of the River Lee that flows into its Harbor and the footbridges around the city. There is a Jewish Community though small in size. Cork is the second largest city in the Republic after Dublin. In the early 20th century, the Jewish community counted almost 500 souls, but the population has since dwindled to 20-30 Jews out of a total population of 135,000 mostly because of intermarriage.
Cork's Jewish immigrant families clustered in the Hibernian Buildings, a squat row of brick dwellings with sloped roofs and fat chimneys along Albert Road, located south of the town center. There have been no Jews living here for at least after 1970 though there is a Shalom Park directly in front of the Hibernian Buildings.
Cork Hebrew Congregation
10 South Terrace
Cork
Mr. Fred Rosehill, Chairman of Trustees
Phone: 353 21 4870413 or 353 87 234 1274
http://www.corkhebrewcongregation.com/
Cemetery - Synagogue
The Orthodox synagogue, which is over 110 years old (built in 1896), still holds services and there is a Jewish cemetery still in use. The exterior appears to be of a lavender colored stone structure with three arched doorways, while the interior includes a central wooden Bima and a wraparound women's gallery and a skylight. Only one service a month is scheduled
http://www.iajgsjewishcemeteryproject.org/ireland/cork-county-cork.html

http://www.jewishcork.com/
http://www.jewishgen.org/JCR-UK/Ireland/cork1_hc/index.htm
Jewish Federation
http://www.jewishfederations.org/page.aspx?id=13223
---
Dublin
"Little Jerusalem" area
Less than a mile south of central Dublin and was once the home of the very early Jews. Jews lived and worked on the streets and lanes off the South Circular Road and Clanbrassil in buildings that are mostly neat rows of two-story, and brick Victorians and one story laborers' cottages.
In 1745, the town contained about forty Jewish families, comprising about 100 persons. In 1900, Dublin had more than 3,000 Jews. In 2008 there are an estimated 1,300 Jews and another 400 scattered around the country. In Dublin, they have moved from the Grand Canal area to the south Dublin neighborhoods of Terenure, Rathmines and Rathgar.
Cemetery
Around 1728, Michael Phillips presented the Dublin Jews with a piece of freehold ground at Ballybough Bridge (Village) for a cemetery and the Congregation of Bevis Marks in London assisted them financially in erecting a wall around the burial ground.
http://www.iajgsjewishcemeteryproject.org/ireland/dublin-republic-of-ireland.html
Irish Jewish Museum


http://p-www.iwate-pu.ac.jp/~acro-ito/Joyce_pics2008/Joyce2008jDUB2/imageidx.html
Check the days and hours as it is open only three days a week; Tuesday, Thursday and Sunday.
Records
Most of the original Dublin families' marriage records of Marys Abbey from 1845 from Camden Street Shul were recently discovered in Roscommon. The Irish Jewish Genealogical Society has 23,400 names on file covering the 32 counties including birth, burial and marriage records from 1845 to 2000.
http://www.jewishgen.org/jcr-uk/ireland/dublin.htm
Synagogues
The Jewish community around 1745, established a synagogue at Marlborough Green. By the beginning of the nineteenth century, the synagogue was discontinued, and the borrowed torahs were returned to the Bevis Marks Synagogue. There are two former synagogue buildings remaining in the "Little Jerusalem" area, though both are now office buildings.

The Adelaide Road Synagogue
37 Adelaide Road
A Moorish-Victorian structure with high arched windows and doorways. It functioned until 1999 and the congregation moved to the Dublin Hebrew Congregation. There is also remaining the former Greenville Hall shul at 228 South Circular Road with its Greek style columns and arched windows.
http://www.jewishencyclopedia.com/view.jsp?artid=169&letter=I#516
http://homepage.eircom.net/~jewishireland/shul.htm
Knesset Orach Chayim (Jewish Progressive Congregation)
7 Leicester Avenue
Rathgar, Dublin 6
For service times or for further information please email djpc@liberaljudaism.org or call +353 87 2303435 Web site:
www.liberaljudaism.org
Dublin Machzikei Hadass Congregation (Orthodox Traditional)
Rathmore Villas, Rear 77
Terenure Road North,
Dublin 6.
Mr. D. Ross
Phone: 353 1 4938991.
http://www.jewishgen.org/jcr-uk/ireland/dublin11_machzikei/index.htm
Dublin Terenure Hebrew Congregation
Rathfarnham Road, Dublin 6
Mr. Michael Gilbert, President.
Rabbi's Office Phone: 353 1 4972351.
The congregation is the largest and the only synagogue open in the city and follows Orthodox tradition and has Ireland's only Mikve.
http://www.jewishgen.org/jcr-uk/ireland/dublin11_machzikei/index.htm
Mansion House
Residence of the city's Lord Mayor.
The building is located on Dawson Street, just off St. Stephen's Green.
http://en.wikipedia.org/wiki/Mansion_House,_Dublin
---
Limerick
The history of Limerick , stretches back to its establishment by the Vikings as a walled city on King's Island (an island in the River Shannon) in 812, and its charter in 1197.
http://en.wikipedia.org/wiki/History_of_Limerick
Limerick Jewish Cemetery Slide Show
http://www.photobox.co.uk/album/23065322
Contact Dr. S. C. O'Mahony, Director of the Limerick Regional Archives,
The Granary
Michael Street
Limerick, Ireland.
Telephone 061 410 7777 Fax: 061 415125
http://www.jewishgen.org/jcr-uk/ireland/limerick/index.htm
History
On January 18, 1904, "there were Anti-Semitic riots at Limerick, Ireland, in consequence of an address delivered by Father Creagh in a Catholic church." In addition, "there were renewed disturbances against the Jewish employees at the Dowlais (Wales) Steel Works." From the American Jewish Yearbook.
http://politico.ie/component/content/article/6238.html